Lately, I have been having so much going on that I pretty much almost abandon my blog. I have been busy working, editing my novel, and other things I will post about soon, and I can't believe how much time have passed since I done the March Writing Challenge. I'm not trying to make excuses, just being honest.
Well, on to what this post is about. I have learned about a month ago about the existence of Kindle Vella that I am sure some of you are aware of.
Kindle Vella is something new Amazon is trying out that authors can be a part of. The thing with it is the stories, novels, or what have you, are broken down into episodes as the chapters of the stories. The works have to be stories that haven't been published before, free or paid.
Authors can make money off it when readers read their episodes. I don't want to repeat what is already being said below in the article, but I believe this may be helpful for writers/authors looking to get their work out there and to reach a broader audience.
Tell me what you think about Kindle Vella. And please feel free to click the link to read the full article.
---
Amazon continues to push its own boundaries in the reader market, this time spreading into a micro-industry that has been gaining traction elsewhere, resulting in an exciting leap forward for Kindle Direct Publishing (KDP) and potentially for authors as well.
The product is the newly announced Kindle Vella, a new Kindle platform created as a "mobile-first" approach to serialized storytelling.
In it, authors will have the chance to engage with readers in a new way, "one short episode at a time".
So let's take a deeper dive into this new platform.
In this article, you will learn:
What Kindle Vella is
How it works
Its potential benefits to authors
The step-by-step process to publish using Kindle Vella
Additional tips and strategies to use
What is Kindle Vella?
Kindle Vella is a new platform from KDP, built specifically for serialized stories. On the platform, it will allow you to publish short episodes of your story, which will then be available to readers on mobile devices and online.
Features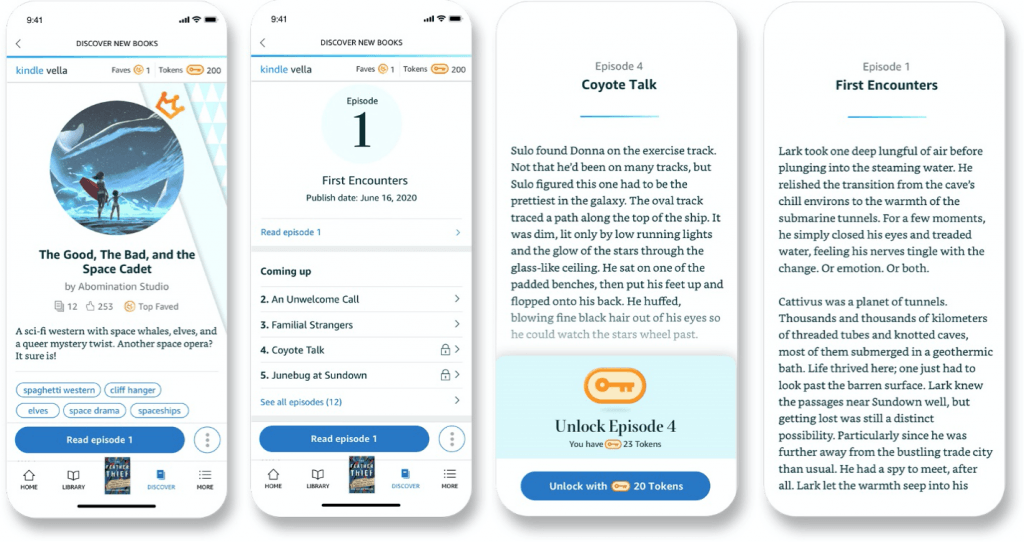 There's a lot to unpack in the above video and on KDP's pages on the subject, but let's break down a few of the core features:
Episodes will be between 600-5,000 words long
It is currently only available to those in the U.S.
It will be available to readers in "the next few months"
At launch, it will only be available in the Kindle iOS app and on Amazon.com
Authors will receive 50% of royalties
Readers will spend their money on "Tokens" that will be used to unlock the story, episode by episode
You can publish, update, or delete an episode at any time
Readers will have the opportunity to engage with their stories using the following

Follow: readers will be able to follow the stories they want to read
Fave: readers can mark the stories they like the most, and the stories with the most Faves will be featured in a leaderboard
Thumbs Up: readers can give a thumbs up to any episode, letting the author and other readers know which installments they liked the most

Episodes will have space for an "Author's Note" section, allowing the author to talk to the reader directly with each episode
The first three episodes of every story will be free
Is This New?
Kindle Vella is Amazon's response to a number of similar platforms that have sprung up over the years, such as Radish, WebNovel, and Wattpad.
Each of these platforms feature bite-sized serialization, and while monetization differs from one platform to another, popularity of this format is seeing more and more attention.
For example, bite-sized serialization platforms have been hugely popular in international markets, such as China, South Korea, and Japan.
It's no wonder, therefore, that Amazon has thrown their hat into the ring.
Source: Kindle Vella: Description, Features, and Tips for Authors